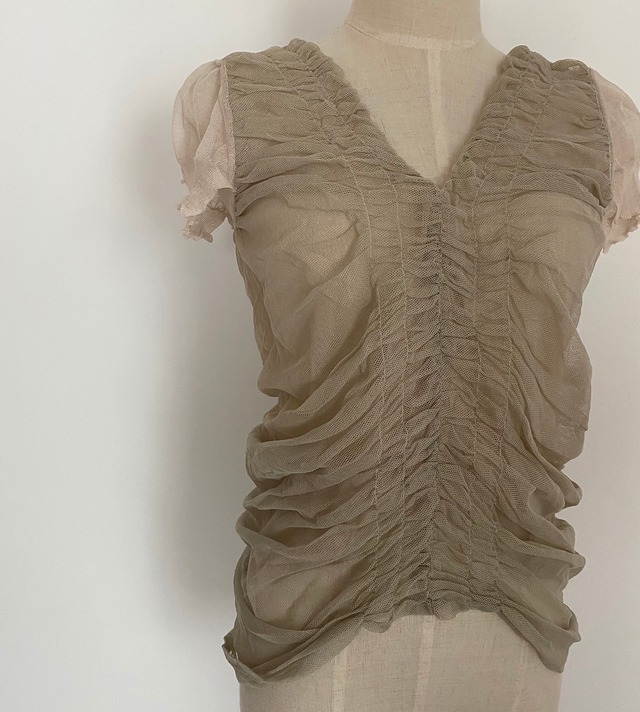 VINTAGE TULLE TOP GV-023
¥8,000 tax included
the last one
Japan domestic shipping fees for purchases over ¥10,000 will be free.
Shipping fee is not included. More information.
RIEKA INOUE GNU VINTAGE
デザイナーがヨーロッパ(主にフランス、イギリス)で買い付けたアイテムを販売しています。

伸縮性のあるチュールに、更に全体にシャーリングのディテールが入っています。
透け感のある袖はニットで仕立てています。
ユニークなバックスタイル部分もストレッチテープになっており伸縮性があります。


この製品は海外で仕入れたビンテージ(中古品)となります。
洗濯表記は海外のものついている場合もございますが、必ずクリーニング店でご相談ください。

ファッション性を重視した非常にデリケートな素材を使用しております。
下記の点にご注意ください。
・過度な運動や極度な力が加わると破損する恐れがあります。
・装飾パーツは非常に引っかかりやすく取れやすいのでご注意ください。
・着用時には、引っ掛けに十分注意してください。
・付属部分へのアイロンはお避け下さい。

混率/ Fabric
不明


SIZE
LENGTH 66cm
BUST 80cm
SLEEVE LENGTH 14cm


This dress was selected by designer at Paris.

This product is vintage (secondhand goods) .
This uses extremely delicate materials that emphasize fashionability.
Please note the following points.
· Excessive exercise or extreme forces may damage it.
· Please note that decorative parts are easy to get caught and easy to remove.
· When wearing, please pay attention to hook.
· Please avoid ironing to accessories.
Add to Like via app
Shipping method / fee

Payment method